Looks like this event has already ended.
Check out upcoming events by this organizer, or organize your very own event.
NOWSTREET PRESENTS, TSL'S CAPITAL REFORMATION & CROWDFUNDING CONFERENCE - SAN FRANCISCO

Thursday, May 10, 2012 from 8:00 AM to 8:00 PM (PDT)

San Francisco, CA
Event Details
We'd love you to ATTEND THE CONFERENCE IN PERSON, but if you can't, you don't have to miss out.
Sign up for the LIVE VIDEO BROADCAST and learn how the fusion of the JOBS Act, social media, and the rapidly expanding marketplace for private company stock is transforming the capital markets and giving rise to new leadership on Wall Street.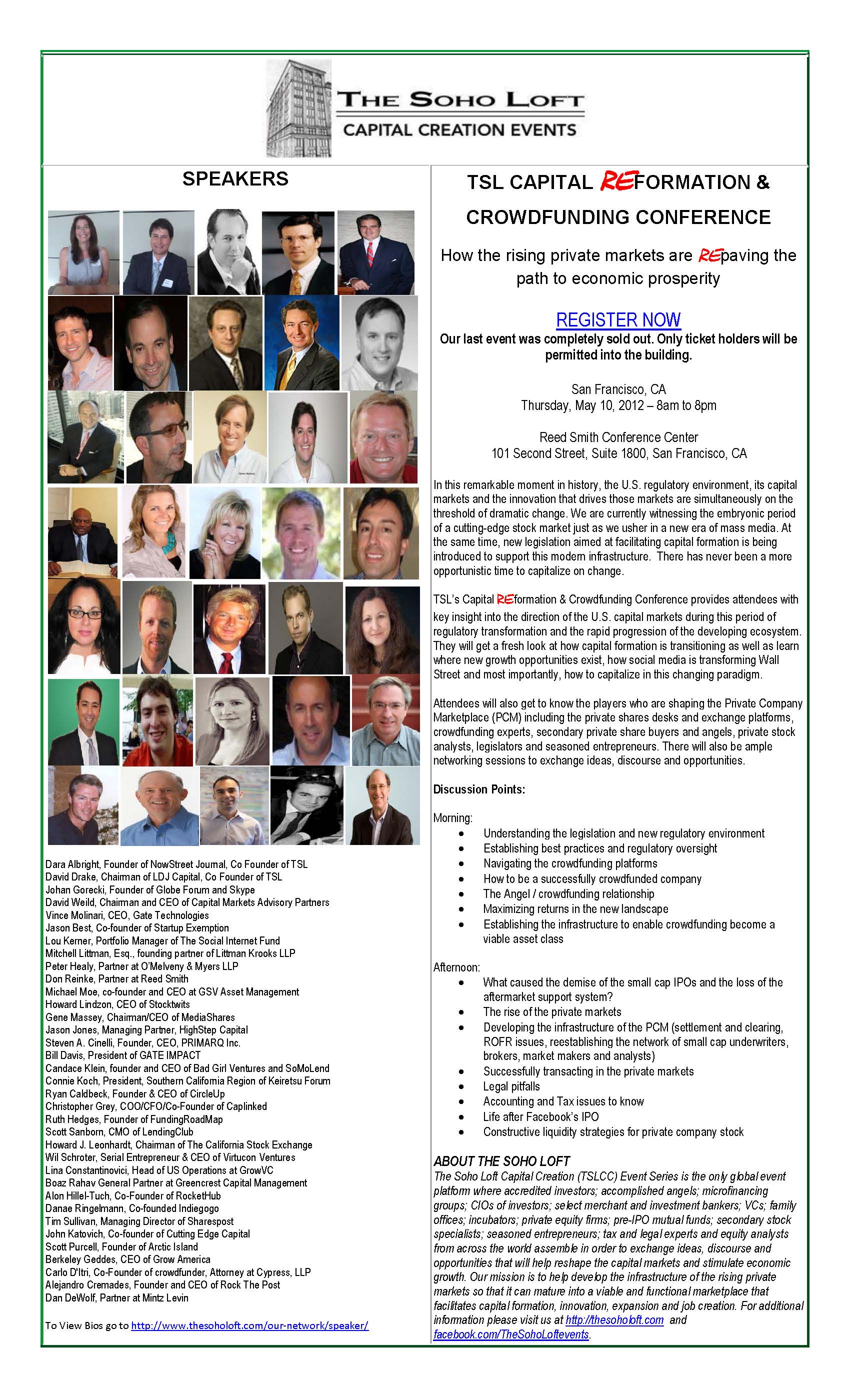 AGENDA
 ·         8am  – Registration, pre-networking, Buffet Breakfast
·         9am - Opening Remarks and Introduction:
·         "Welcome to the Future of America's Capital Markets", by Dara Albright, Founder of NowStreet & Co-Founder of The Soho Loft Capital Creation Events
·         The Introduction of  the Crowdfunding organizations: CFIRA & CfPA, by Berkeley Geddes, CEO of Grow America and  Candace Klein, Founder and CEO of Bad Girl Ventures and SoMoLend
·         940am  – 1015am - "The digital media shift from print and how the corporate sector works with open innovation" by Johan Gorecki, Founder of Globe Forum and Co-Founder of Skype
·         The Capital Markets of Tomorrow – Crowdfunding: A new Asset Class
·         1015 to 1045am Panel: The Genesis of Crowdfunding and the Current Landscape:
·   Panelists include:   
·         Lina Constantinovici, Head of US Operations at GrowVC 
·         Steven Cinelli, CEO of PRIMARQ Inc. 
·         Ryan Caldbeck, CEO of CircleUp 
·         Alon Hillel-Tuch, Co-Founder of RocketHub 
·         Danae Ringelmann, CFA, Founder & COO, Indiegogo
·         1045 to 11am – Coffee Break: Snacks and Networking Under the Buttonwood Tree, Speaker interviews
·         11am to 1130am Panel: The JOBS Act: tossing out 80 year old securities rules and modernizing capital formation: 
 ·   Panelists include:   
·         Don Reinke, Partner and Chair Securities & Capital Markets Practice, Reed Smith 
·         Mitchell Littman, Esq., founding partner of Littman Krooks LLP 
·         Jason Best, Co-Founder of Startup Exemption 
·         Candace Klein, Founder and CEO of Bad Girl Ventures and SoMoLend 
·         John Katovich, Co-founder of Cutting Edge Capital 
·         Dan DeWolf, Partner at Mintz Levin
·         1130am to 12pm Panel: The infrastructure of the equity-based Crowdfunding marketplace and the new Angel / Issuer Dynamic: 
·   Panelists include:   
·         Gene Massey, CEO of MediaShares 
·         William Davis, President of Gate Impact 
·         Wil Schroter, Serial Entrepreneur & CEO of Virtucon Ventures 
·         Connie Koch, President, So. Cal. Region of Keiretsu Forum
·         Howard Leonhardt, CEO of The California Stock Exchange
·         12pm to 1230pm Panel: Who needs Wall Street when we have Peers: 
 ·   Panelists include:   
·         Ruth Hedges, Founder of FundingRoadMap 
·         Scott Sanborn, CMO of LendingClub 
·         Scott Purcell, Founder of Arctic Island 
·         Carlo D'Itri, Co-Founder of crowdfunder, Attorney at Cypress, LLP 
·         Alejandro Cremades, Founder and CEO of Rock The Post
 ·         1230  to 1245pm – Crowdfunding Success Story – "The tiltpod" by Eric Strasser
 ·         1245 to 115pm – Networking Lunch Break, Speaker interviews
 ·         The Capital Markets of Tomorrow - The Rise of The Private Company Marketplace (PCM)
 ·         115pm – 2pm -  "How regulatory changes have undermined the market of small cap stocks and IPOs and what is being done to improve our capital markets system" by David Weild, Chairman and CEO of Capital Markets Advisory Partners and former Vice Chairman and executive committee member of The NASDAQ Stock Market
 ·         2pm - 220pm  - "The Market For Private Company Stock" by Tim Sullivan, President of Sharespost
·         220pm to 3pm - Panel: How the new regulatory environment will fuel the expansion of The Private Company Marketplace (PCM), Moderated by Christopher Grey, COO/CFO/Co-Founder of Caplinked 
·   Panelists include:   
·         Vince Molinari, CEO of Gate Technologies 
·         Peter Healy, Partner at O'Melveny & Myers LLP 
·         Jason Jones, Portfolio Manager of HighStep Capital 
·         Tim Sullivan, President of Sharespost 
·         Michael Moe, CFA, Chief Investment Officer of GSV Asset Management
·         3pm to 320pm - "Development of the Infrastructure of the PCM" by Vince Molinari, CEO of Gate Technologies
 ·         320pm to 345pm - Coffee Break: Snacks and Networking Under the Buttonwood Tree, Speaker interviews 
·         Social Media and The Private Markets: The Symbiotic Relationship:
·         345pm – 405pm – "Finding the Next Facebook" by Michael Moe, CFA, Chief Investment Officer of GSV Asset Management (NASDAQ: GSVC)
·         405pm to 440pm - "The Social Internet" by Lou Kerner
·         440pm to 5pm – "How to Invest in Viral Grwoth Companies" by Jason Jones, Portfolio Manager of HighStep Capital
 •             5pm to 530pm – "Using Social Media Platforms to Find Investment Opportunities" by Howard Lindzon, CEO of StockTwits
•              530pm – Closing Remarks, Meet our Sponsors, Announcement of Raffle Winners
•              6pm – Cocktail Party, Extensive Networking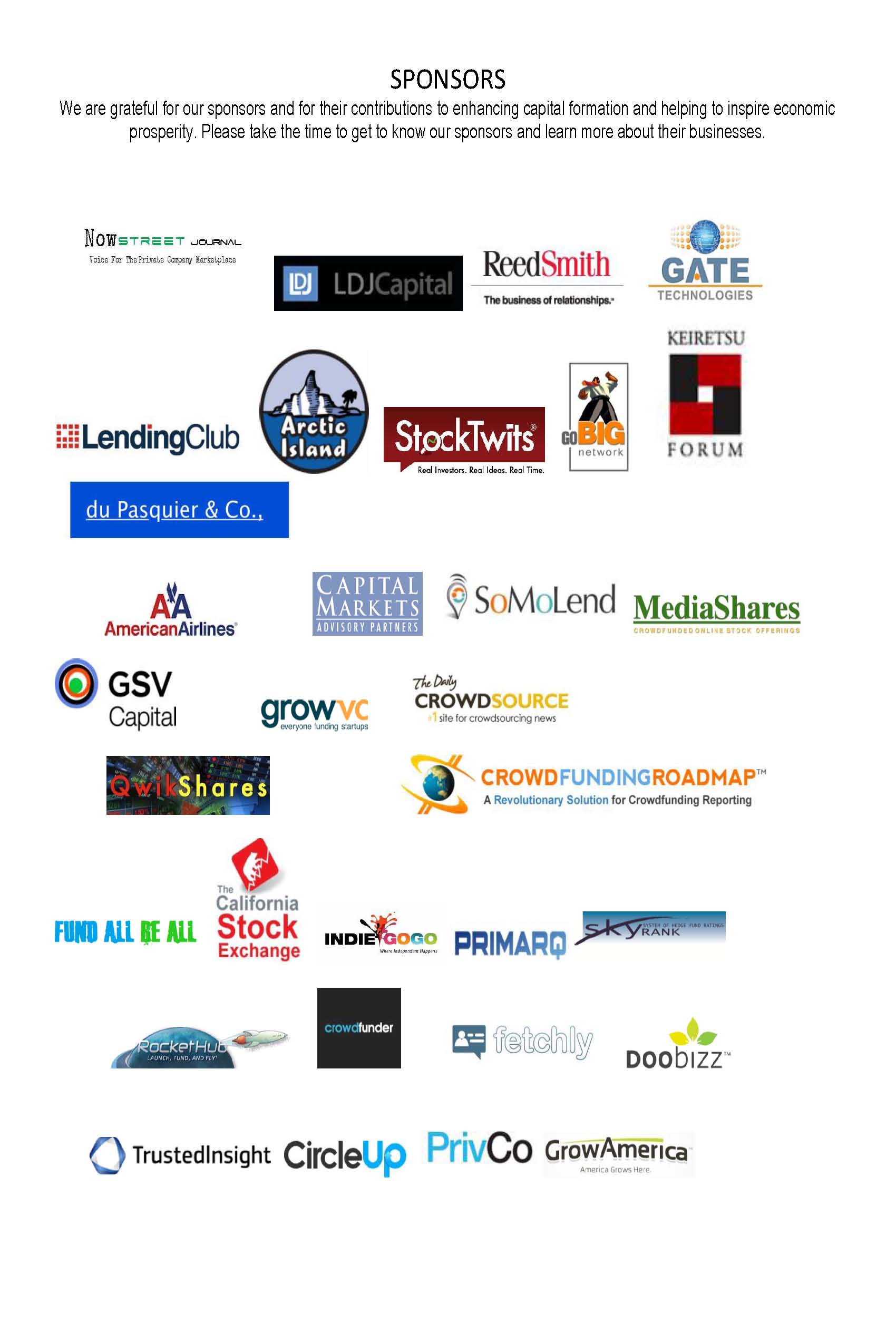 When & Where


Reed Smith Conference Center
101 Second Street, Suite 1800


San Francisco

,

CA




Thursday, May 10, 2012 from 8:00 AM to 8:00 PM (PDT)
Add to my calendar
Organizer
NowStreet
Symbolizing the Wall Street of tomorrow, NowStreet is a financial media company dedicated to rebuilding a capital markets system that ensures prosperity across all socio-economic classes. Known for its cutting-edge market commentary and acclaimed crowdfunding events that feature some of the most prominent speakers in the financial industry as well as the legislature, NowStreet continues to help both issuers and investors capitalize during this period of unprecedented innovation and regulatory reform. Additional information can be found at http://nowstreetjournal.com/